A branch of a sports association
Register a branch of a sports association quickly and in accordance with the law

The numerous advantages of the branch make it a great option for all sports associations that are ready to change and further develop their business.
Expand the performance of activities through the education of a branch of a sports association
Are you ready to raise your sports association to a higher level? Do you want to develop your business and expand your activities in order to get closer to achieving the set goals as soon as possible? In that case, the branch is a great solution for you. The branch does not have the status of a legal entity, but in legal transactions it acts in the name and on behalf of the sports association. The branch has its place of business and its representative. Are you ready to expand your business?
WHEN TO DECIDE FOR THIS CHANGE?
What are the main reasons for registering an association branch ?
What does the process look like?
How does Direkta help you register change quickly and efficiently?
Support
You need a consultation regarding
branch registration?
If you have a specific situation related to branch registration, it is best to consult with our consultants before initiating the procedure.
Start the branch registration process quickly and efficiently
You can initiate the branch registration procedure at any time, by contacting our customer support via online chat or ordering a package of services with the provision of all necessary information to initiate the procedure.Na ovaj način obezbeđujete brzo pokretanje postupka i stručnu podršku pri dobijanju svih potrebnih informacija o neophodnim koracima koje bi trebalo preduzeti kako biste registrovali ogranak sportskog udruženja u što kraćem roku.
Save money
Multiple changes in one application
If you need more changes (change of business name with a change of headquarters and activities, for example), our advice is to report them at the same time. This way you get efficiency and great time savings. In addition, we are happy to meet the needs of our clients and we make half the price for each subsequent change. When ordering the service of registration of several simultaneous changes, our online calculator will calculate the exact amount of our service with the included fees of the Business Registers Agency.
Registration of a branch of a sports association
Preparation of documentation

Change registration fees

Conducting the procedure

Download solutions

Monitoring the status of cases
Promotional offer with a special price for branch registration is also valid: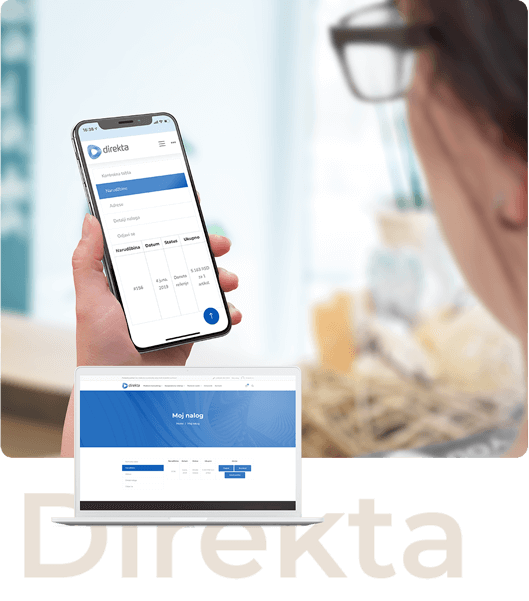 Track your subject change
Our clients get access to a system for tracking the status of cases to always be up to date with the procedure
We have enabled you to follow in real time what is happening with your branch registration procedure, from initiating the case to making a decision and downloading the documentation in electronic form.
You are in the right place
Why choose Direkta for
branch registration?
Can a sports association register more than one branch?
Can. The Law on Sports stipulates that a sports association may register one or more branches.
Is it mandatory to register every educated branch?
It is. In case you have registered more than one branch, you are obliged to register each one in accordance with the law.
What is submitted from the documentation for the application of the branch of the sports association?
In order to register a branch of your sports association, you need to submit a registration application, proof of payment of the registration fee, decision on the formation of the branch, minutes of the meeting at which the decision was made, statement of the branch representative and proof of identity. branch (ID card or passport).
Under what name does the branch appear in legal transactions with third parties?
In legal transactions, the branch acts under the name of a sports association as well as under its own name.
How much is the fee for entering a branch in the register of business entities?
The fee for timely registration of a branch in the register of business entities is RSD 2,800.00.
Is there a deadline for registration of branch registration?
Exists. The deadline for registration of any change that needs to be registered is 15 days from the date of the change. Otherwise, your sports association pays an additional fee in the amount of 6,000.00 RSD.
Customer impressions
What do our customers think of us?

James Winks
USA, Sustainable Living Solution
I received my temporary residency, which means you guys did a great job! I want to express my thanks and appreciation for your professionalism and thoroughness. Thanks for going the extra step in every task needed in my case. I enjoyed our interactions together on both a business and personal level. If the need arises I will be delighted to request your services in the future.


Michael Ortolano
USA, Junction43 d.o.o.
Direkta helped me form a company and acquire temporary residency permits in Serbia. By laying out and managing the whole process step-by-step, Direkta provided the guidance and process visibility I needed to get through company formation and immigration efficiently and successfully. I highly recommend Direkta!

Maksim Arkhipov
Russia, Arma Outdoor d.o.o
I have been looking for a company for a long time to help me with the opening of LLC in Serbia, every step was explained to me many times, absolutely all the documents that I signed were translated. Accompanied me wherever needed. I am very satisfied with the services provided. More importantly, everything was done strictly on time! Thanks!
Consult with us and choose the best solution for your business!
Get to know the conditions and everything in detail and first hand
relevant aspects for registration of changes.